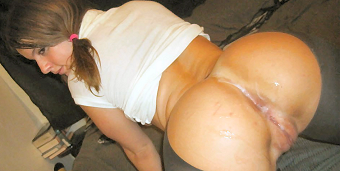 I was happily married in an open relationship. Hubby and I would play as a couple with other couples so I was always encouraged to look my best and show off. Sometimes when the weather was nice, I would go and watch my husband's various city league sports team play. Since these games were after work,
I was usually dressed in a professional but sexy manner. One day after a game, "FJ" (one of his best friends) complimented my ass. I couldn't believe it! I never thought he had even noticed me (except in a polite married to a good friend manner) but as soon as he said those words, my pussy started to drip.
I drove straight home thinking about his words, his hard body, and (I assumed) his big hard cock. I nearly ran out of my clothes to get to the bed to play with myself. It was when I was imagining him pounding my pussy from behind that I came and realized THIS had to happen!Read more...